Welcome to Riverside Dumpsters & Junk Removal
Securing a dumpster rental or Junk removal service for your next project has never been easier with Riverside Dumpster Rental & Junk Removal on your side. If you need a dumpster to take out the trash or construction debris from your upcoming project, we have the perfect solution for you. We're a locally owned and operate small business that's dedicated to helping our surrounding community members properly dispose of waste in a timely, convenient and hassle-free manner. Our prices are the most competitive, making us the go-to choice for either dumpster rental or junk removal in the area.

If you're looking for cheap Dumpster Rental or Junk Removal service that's honest, dependable, and reliable you're in the right place. We make it a simple and cost-effective way of properly disposing of excess waste.

GIVE US A CALL or TEXT 951-512-0875
Need help choosing the right service? Give us a Call: 951-512-0875
We Take Just About Everything
Some examples of the junk we haul away include:
Refrigerator Disposal

Garbage Removal

Mattress Disposal

Foreclosure Clean Outs
Construction Waste Removal

Yard Waste Removal

Trash Removal

Appliance Removal
Television Disposal & Recycling

Furniture Removal

E-Waste Disposal

Hot Tub Disposal
The #1 Choice for Dumpster Rental Riverside CA
Riverside Dumpster Rentals is the area's number one choice for affordable and dependable dumpster rental Riverside CA options. Get your garage cleanout, office development, or ongoing waste management started today with the help of our experienced team and quality container rental options. We're proud to offer our services in Riverside, California, and provide the area with dependable, affordable dumpsters for rent Riverside for all occasions.

With our online booking system, it's never been easier to secure a dependable and quick dumpster rental Riverside for your next project. We go above and beyond so that you have the best container for your waste disposal at a price you can afford. We proudly serve both residential and commercial customers with our Riverside disposal dumpster rental selections.

Our team members are integral parts of the communities we serve and we prioritize keeping our cities waste-free. As a locally owned and operated small business, We want your experience with our dumpsters for rent in Riverside to be one of excellence. Expect nothing less than flexible, on-demand scheduling, clear competitive pricing, and no-hassle delivery and pickup from our dumpster rental Riverside CA.
Reliable and Affordable Dumpster Rental Riverside California Options
We are the area's go-to choice for dumpster rental Riverside California because our commitment to excellence and customer support shines through in all aspects of our rental services. We hope to prove to you that our experience and honesty provide you with the #1 option for the city of Riverside dumpster services.

Riverside Dumpster Rentals provides the area with both roll off dumpster rental Riverside CA and junk removal. Our junk removal service is a great option for our customers who need us to do the heavy lifting. Call us at (951) 512-0875 to schedule your junk removal and have our professionals load your items and take them away.

We are your full-service waste management partners that homeowners and business owners alike rely on to provide the reliable dumpster rental Riverside California they need to keep their homes, yards, businesses, and job sites clean. Schedule your next clean-out with us, where professionalism and customer satisfaction go hand in hand. If you've been searching for where to rent a dumpster Riverside CA, look no further than with our team of courteous, experienced rental experts. Book your roll off online or give us a call today!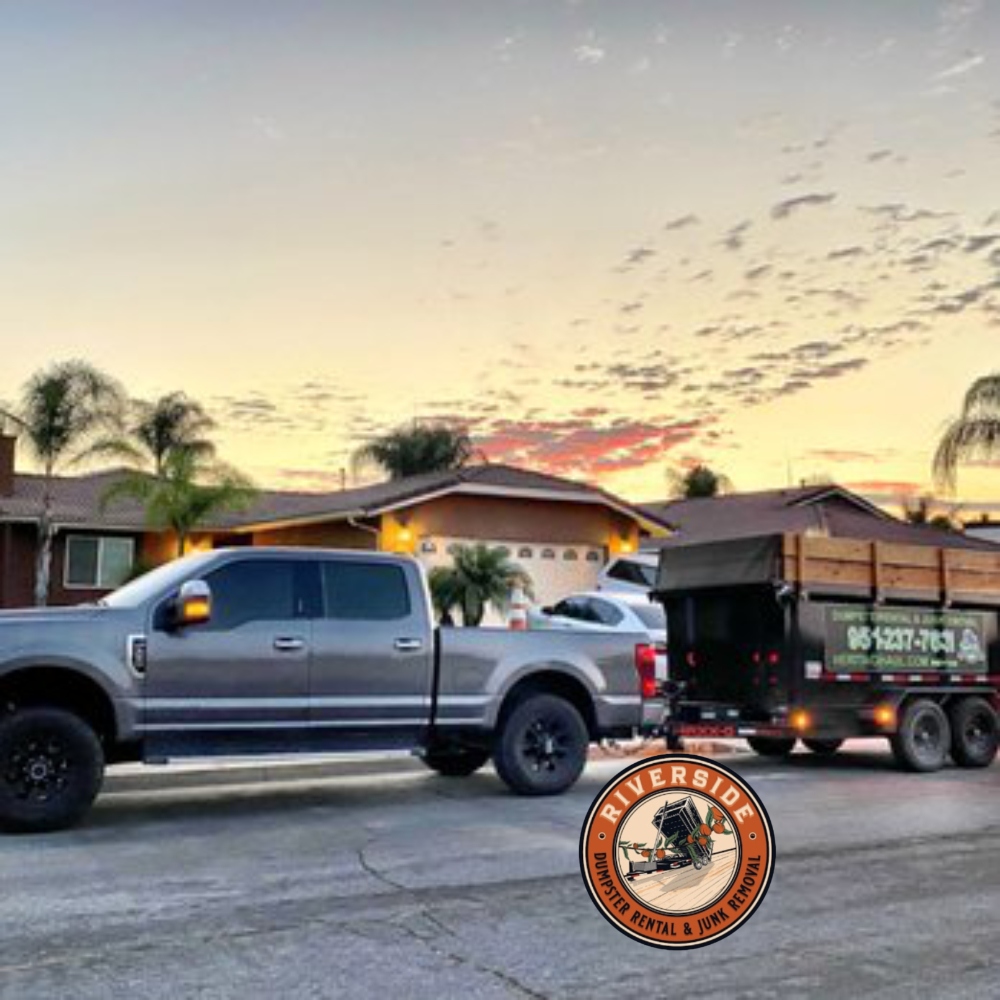 Various Convenient Uses for a Dumpster Rental in Riverside CA
Our versatile and convenient dumpster rental in Riverside CA options can assist you with your specific waste disposal needs. Whether you need waste management for your home project or business, we have your solution. You can depend on our friendly team to reliably deliver and pick up in a timely manner when you rent a roll off dumpster in Riverside CA from Riverside Dumpster Rentals. Our trained drivers will safely transport the loaded container to the Riverside County landfill where the waste materials will be disposed of properly according to county and state guidelines.

We currently offer three sizes of roll off dumpsters for your convenience, 7 yard, 15 yard, and 20 yard Riverside dumpsters for rent. Our durable containers are used by homeowners for their garage and attic cleanouts, downsizing to a new home, and yard debris disposal. Contractors and construction sites rely on our efficient dumpster rental in Riverside CA to keep their businesses running smoothly. We provide reliable, cost-effective waste management for a variety of businesses in the area.

When you're ready to get your project started and finished with the help of our team of pros, it's as easy as picking up the phone. Book your local dumpster rental Riverside CA today by calling us at (951) 512-0875 or by using our convenient online reservation system. Either way, you're on your way to being another happy customer of ours!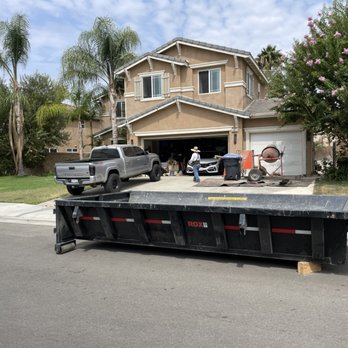 Homeowners Love our Dumpster Rentals Riverside
Area homeowners know the value of having one of our dumpster rentals Riverside when they're starting projects that require waste management. Declutter your home of unused or broken items taking up valuable space, begin that fun DIY home improvement project, and manage yard waste removal after a storm easily with our help.

We regularly work with homeowners and individuals on a variety of project goals by providing cost-effective residential dumpster rentals Riverside. If you are downsizing a household or preparing for an estate sale, we have the solution to disposing of the trash and unwanted items. Book one of our roll offs for garage, attic, or basement cleanouts, outdoor yard work, single-room remodeling or renovations, appliance or furniture removal, and more.

Our dumpster rentals Riverside are the key to unlocking the potential improvements that homeowners have in their homes. If you've been wondering how much it cost to rent a dumpster container in Riverside CA, we offer an affordable option to get you the results that you want. Reach out to us at (951) 512-0875 or use our online system to reserve your roll off today!
Clear Up Yard Waste with Our Convenient Dumpster Rentals Riverside CA
Our dumpster rentals Riverside CA help you to make the first impression of your home a memorable one. The landscaping and yard surrounding your home is the first thing that you, your family, and your neighbors see, and we're here to help make what you see look its best. Riverside Dumpster Rentals is your partner in the task of trimming trees and shrubs, cleaning up storm damage, and yearly garden cleanouts. These jobs are handled with ease when you have a container for all of your yard debris nearby. Just fill it up, give us a call, and we'll haul it away.

Is it your goal this year to replace that old deck or tear down the unsafe shed on your property? Accomplishing those overwhelming outdoor projects is more than possible with a dumpster rental Inland Empire. Our heavy-duty containers will handle all of the debris from your outdoor project. Make your reservation online today for a yard waste dumpster rentals Riverside CA, and you're on your way to improving your outdoor space.
Durable Roll Off Dumpster Riverside CA that Contractors Choose Every Time
Our roll off dumpster Riverside CA options are on job sites all over the area because contractors know they can rely on our service to come through for them. Project managers depend on our heavy-duty equipment for all of their waste management on their job sites. Riverside Dumpster Rentals is the most trusted in the area to provide the construction dumpsters Riverside CA contractors need to keep their worksites safe and on the right track.

Safety is a top priority on any construction worksite, which makes our reliable roll off dumpster Riverside CA an essential tool in functionality and cleanup. Our heavy-duty bins can take it all, from plumbing and fixtures to lumber and roofing materials. It's all contained safely and disposed of properly. We carry a 7 yard ​​dumpster rental for concrete Riverside CA that contractors frequently utilize on an ongoing basis. Trust us with your next project's waste and trash containment - you'll be glad you did! We're the construction professional's choice for reliable and affordable roll off rentals in the area. Book your rental using our convenient online system or give us a call today!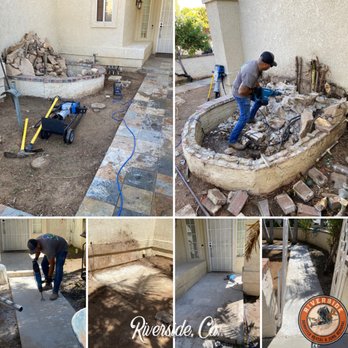 Affordable Dumpster Rentals Riverside CA for Your Roofing Needs
Roofing contractors cannot be without conveniently placed, affordable dumpster rentals Riverside CA on site. Riverside Dumpster Rentals provides the containers you need for your roof replacement or repair job at prices that can't be beaten. We are committed to keeping our prices affordable for area roofing contractors and DIY homeowners with an upcoming roofing project.

You can rely on our affordable dumpster rentals Riverside CA to keep your work area hazard-free with your roofing materials safely contained. Our bins hold all types of roofing equipment and debris, such as shingles, tile, lumber, nails, and more. Reserve your durable container today by using our online booking system or give us a call at (951) 512-0875 if you have any questions.
Trash Dumpster Rental Riverside CA for Your Business Operations
Riverside Dumpster Rentals has the years of experience local businesses rely on for their trash dumpster rental Riverside CA. We cater to the needs of various businesses and their ongoing trash management. Area restaurants, care facilities, hotels, and schools rely on our dependable pickup and disposal services for both short and long-term needs.

As a business owner or manager, you understand the importance of keeping a tidy and clean facility inside and out. Our friendly customer service team will work with you to get your business on a trash disposal schedule that works best for you. When you have our trash dumpster rental Riverside CA working for you, waste disposal is the last thing you'll have to think about. Reserve your commercial roll off container online today!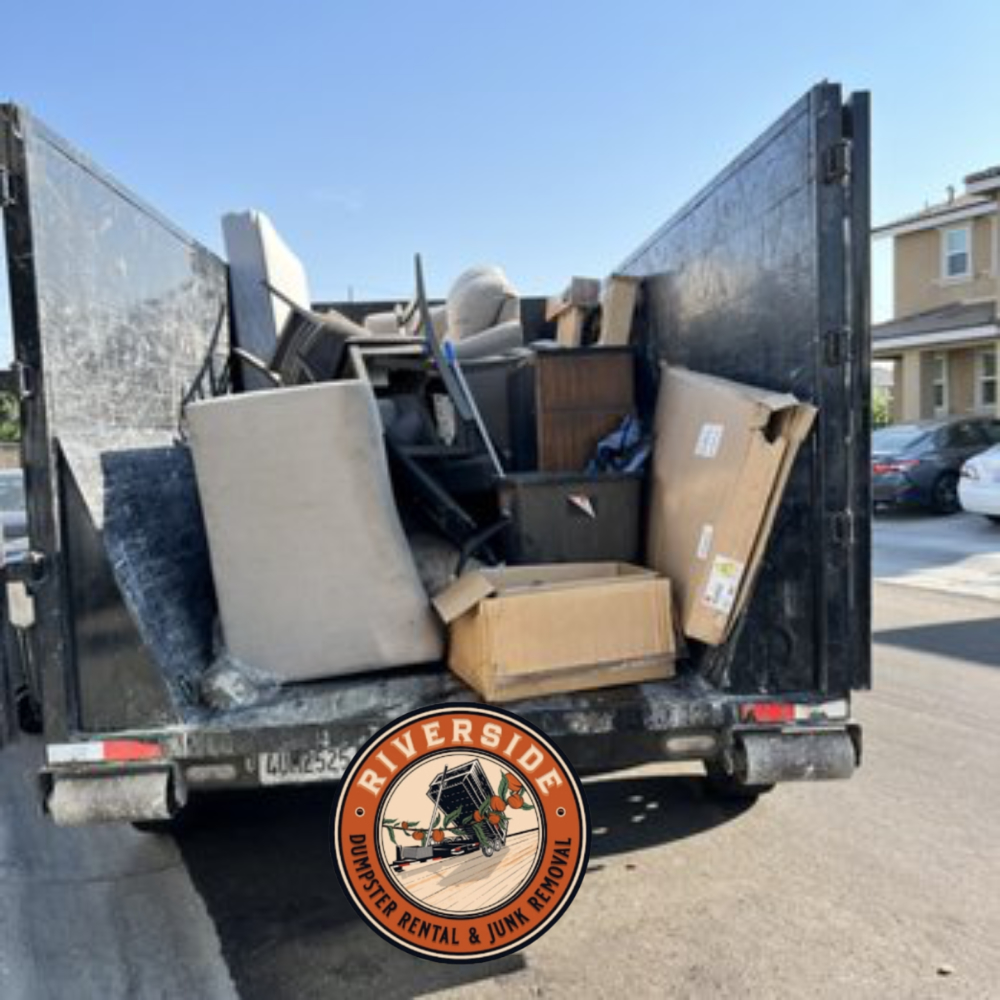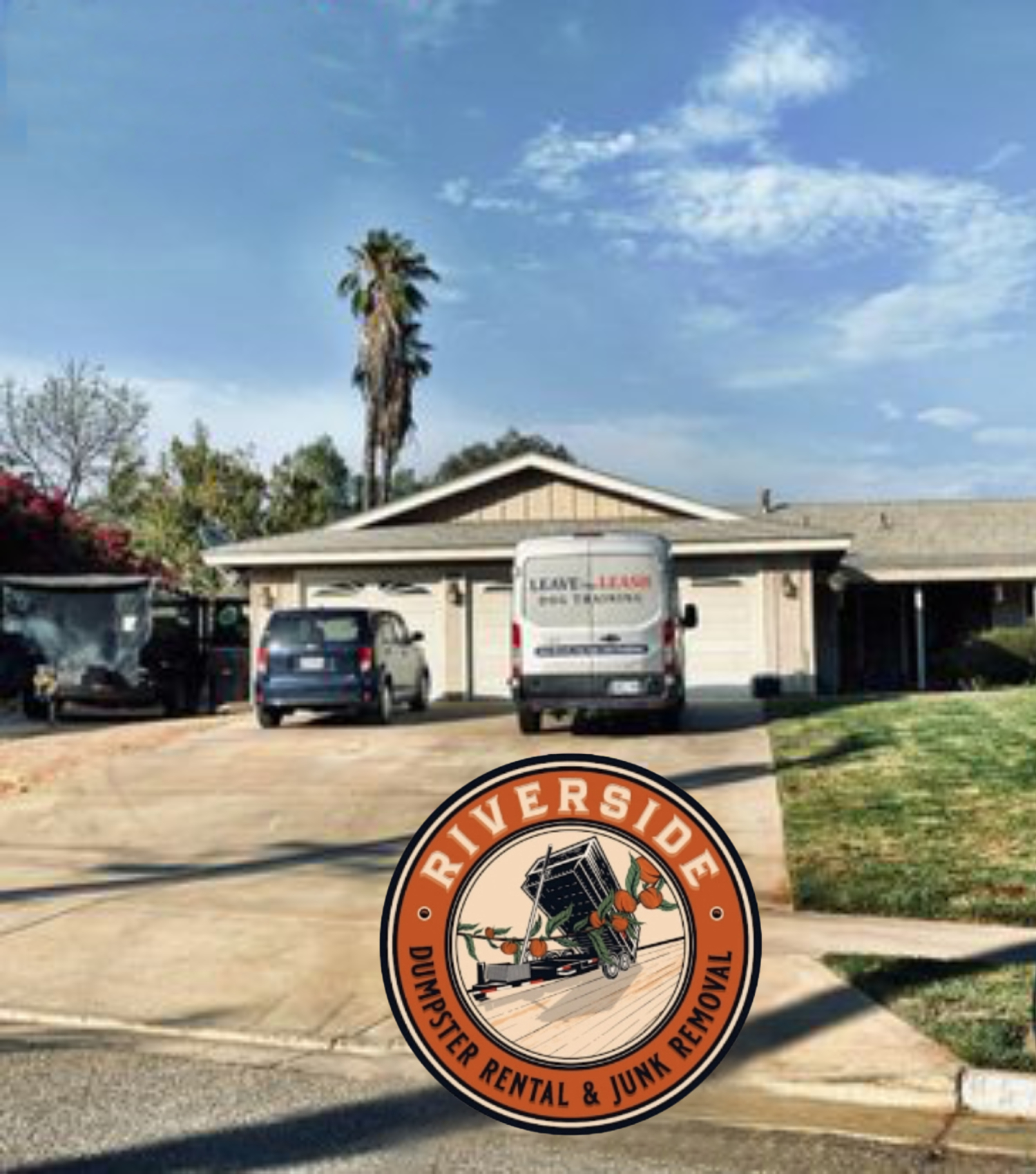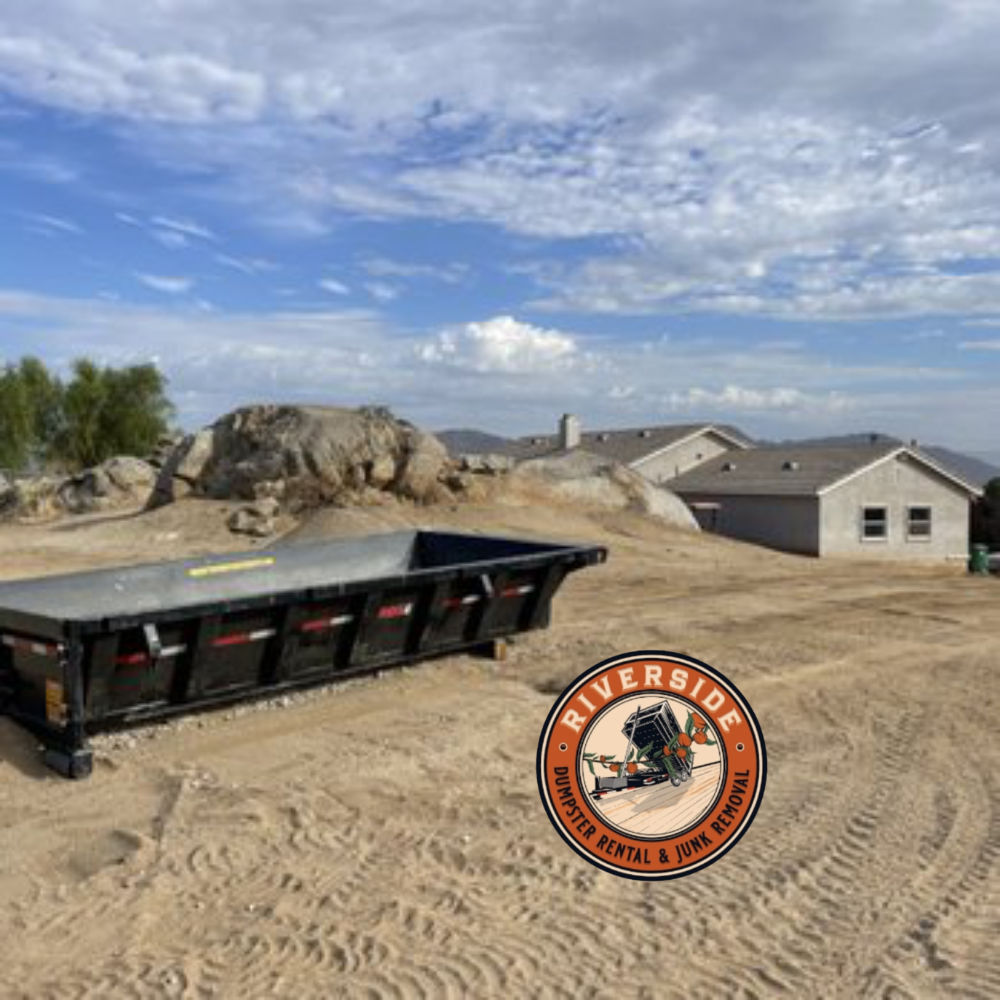 How to Reserve Your Riverside Dumpster Rental Today
Reserving your next Riverside dumpster rental is an easy and straightforward process using our online scheduling system, available to you 24/7! When you're ready to start your next project or are in need of trash disposal, our knowledgeable staff is here to help. When you use our online reservation system you will see the options for size, length of rental, and pricing. Take a look at our inventory and book your roll off online today!

Navigate to our "Dumpster Rental" page and follow through these steps. Choose the container that best suits your job by clicking the orange "Book Now" button. Select the date you want your Riverside dumpster rentals delivered to your site. Next, enter your contact information, bin placement location, and any other pertinent comments. Using our secure online system, enter your payment information. We accept all major credit cards.

Confirmation will be sent via email and or text confirming your reservation for a Riverside dumpster rental. A team rep will be in contact regarding the delivery window for your rental and to answer any questions you may have at that point. Reach out today at (951) 512-0875 if you would rather reserve your budget dumpster rentals Riverside CA over the phone. We are here to get the right equipment to you for your project!

Riverside Dumpster Sizes & Prices You Can't Beat
No matter the scale or scope of your project, we're confident we have the Riverside dumpster perfect to help you achieve your goals. Take a look at our range of options and get in touch with us if you have any questions about the best container for the amount of waste you plan to haul away.

7 Yard: A homeowner's frequent choice for yearly cleanup inside and outside the home, DIY projects, and more. This rental is affordably priced at $450.00, which includes one day of rental time and one ton of weight. The 7 yard measures 12' long by 8' wide and 5' high. This durable and long-lasting container is typically used for concrete and dirt, making it a viable option for contractors and construction professionals as well. If you've been searching for small dumpster rentals Riverside CA, you've found the perfect fit!

15 Yard: This container is often used for bigger cleanouts, single room remodels, and furniture disposal. Priced at just $360.00 for up to a one-day rental and one ton included, we're confident this size will suit a wide range of rental needs. The 15 yard measures 12' long by 6' wide and 5.5' high.

20 Yard: This Riverside dumpster is the best waste containment option for a whole house, garage, and attic cleanouts. Contractors find this size will accommodate small construction projects and more. Priced at $400.00, this rental includes up to one day of rental time and 1.25 tons included. It measures 14' long by 8' wide and 5' high. This is a great option if you've been searching for a large dumpster rentals Riverside CA to support your upcoming commercial projects.

You no longer have to spend hours searching for the best dumpster rental near me Riverside CA for your upcoming project. We give you up-front pricing and transparency regarding additional fees for any extra tonnage and extended rental time because we understand how important sticking to a project budget is. We want this to be a stress-free experience for you, so reach out with any questions regarding our rentals by giving us a call at (951) 512-0875 or book online now!
Dumpster Rental Riverside FAQs
If you need more information about our dumpster rental Riverside options before moving forward with your reservation, take a look at some of our frequently asked questions below! If you additional guidance on which size is best for your project or more information about our prices for dumpster rental Riverside CA, get in touch with us today.
Q.
What can I put into the container?
A.
Accepted items include the following: furniture, garbage, household trash, carpets, rugs, construction materials, and much more. The items need to fit completely into the bin with no spillover. We cannot accept hazardous materials such as flammable liquids. Call us at (951)-512-0875 with questions on specific items and whether we can dispose of them.
Q.
I have items to dispose of. Can I get some help?
A.
Riverside Dumpster Rental also has a junk removal service, which means we do the heavy lifting for you. Schedule a time and we will come to your home or business and remove the items, load them on our truck, and haul them away. This is a full-service junk removal option, for some of our customers, it's the best option.

Q.
How should I load my dumpster rental Riverside?
A.
Load bigger items in the back of the dumpster, and be sure all debris is contained inside the dumpster. Leave nothing hanging over the sides as the driver cannot haul the loaded container if it's overflowing. If you have any questions about how much to fill in your dumpsters Riverside CA or need additional tonnage, call or text us and we'll fix you up.
Q.
How much does it cost to rent a container?
A.
Our rental prices vary based on the size of the container, rental period, and amount of waste being hauled away. We offer three convenient and cost-effective options beginning at $360. We understand many customers are searching for cheap dumpster rentals near me Riverside CA, but along with affordable options, we prioritize customer satisfaction, punctual delivery, and positive results. We're confident that our team will provide unbeatable service with the best price dumpster rentals Riverside CA.

If you have any additional questions about our services, price points, or range of options, get in touch with us today and we'll help decide the best roll off for your upcoming project!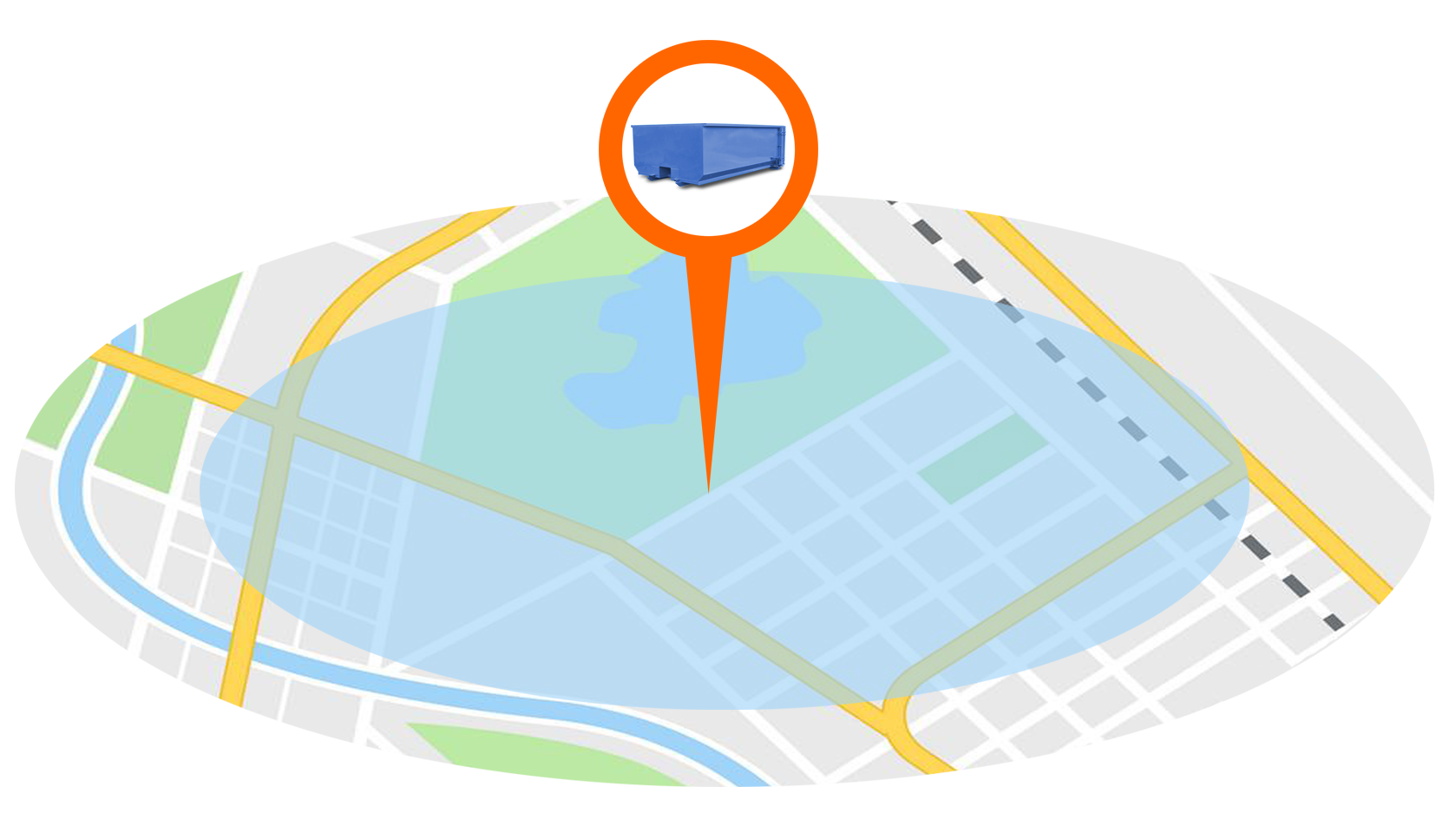 Riverside Dumpster Rentals and Junk Removal Service Area
Do you have a project in Riverside and another in Corona? Not sure if we can deliver to both areas? No problem, we regularly deliver dumpsters to areas that may be out of the way for most companies. We also service Moreno Valley, Murrieta, Redlands, and many others in the surrounding area. Check out our complete list of cities within our service area by clicking the button below. If you're still unsure if we can deliver a dumpster, or pick up junk to remove at your location, call us at 951-512-0875 and we'll be happy to answer your questions. Don't wait any longer than you have to, call us today!
Service Area